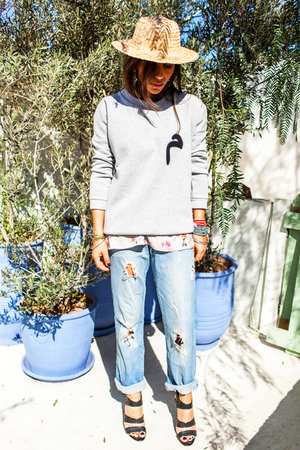 Miim Cotton-Blend Jersey Sweatshirt
Description
Cotton-Blend Jersey Sweatshirt. Slightly Fitted, Tighted Sleeves.

Size and Cute
All Sizes are available
Cut for a relaxed fit.
I'm wearing the Small Version on the pictures but I like wearing the Medium one for a boyish look.

Available Letters
ﻡ

Colors
Grey.

How to Wear it
The Sweatshirt is chic. I'm wearing mine with a large white shirt and a vintage shorts.

Details
Dry Cleaning.

Please mention your size and V or Rond Neck during your order.